Wedding Preparation Classes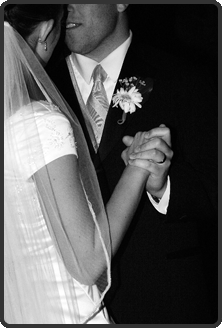 Your First Dance will be All Fun, No Stress!
We know how special your wedding day should be and your First Dance should be momentous! Kasper Dance Studio knows exactly how to prepare you for your first dance so that you will feel comfortable, have fun, and be stress free on your wedding day.
You will have one-on-one instruction with a teacher who will create easy to learn choreography just for your abilities and to fit exactly to your chosen music.
We can also teach wedding preparation for Father-Daughter dances and Parents of the Bride and Groom. Additionally, we can teach group classes for your wedding party or guests and we can also perform shows to wow your guests and get them in the mood to dance the night away.
Dancing Happily Ever After……..
Many of the couples we teach continue to take lessons long after their wedding day. They enjoy the exercise, the stress relief, and the time that they spend together during an otherwise very busy week. Some join our Group Dance Courses, and others continue to take their Private Lessons. Either way, they have found a great way to stay connected and have fun with each other long after their wedding day.
Here's what some of our couples say………
"Kasper Dance Studio helped us look great and feel really relaxed on our wedding day. We had so much fun preparing for our first dance that we started taking group lessons together." Craig & Lisa, Woodridge IL
"My fiancé had two left feet when we started lessons, but we had a standing ovation for our first dance!" Ted & Olga, Chicago IL
Let us help you make your wedding day perfect……….
It's easy to start - Here's how it works
You will have one-on-one instruction with a teacher who will help you bring to life your perfect vision of your First Dance.
Call us at 773-545-0222. We will schedule your first lesson around your hectic lifestyle and we can even help you choose your music.
You can purchase individual lessons or a discounted package of lessons to continue working on your dream First Dance. We will help you determine what works best for you based around your wedding date - and there is NO obligation to buy additional lessons. You only purchase lessons that you want to take. No hard sell - we promise. Click Here for Rates.
Start having fun! We will teach you easy to learn choreography specifically suited to you and custom fit to your particular wedding song. No boring memorization of steps and no looking awkward on the dance floor.
Click Here to Contact Us